Retail Hours:
Monday to Wednesday: 11-7ish
Thursday and Friday: 11-9ish
Saturday and Sunday: 11-5
Retail fridge is well stocked with cans and we are doing growler fills to boot. Our online shop is open and local shipping is free when ordering 24 or more and using the code KWDELIVERY. You can also order online for curbside pickup.
Our Featured Beer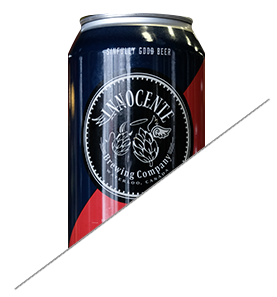 Charcoal Porter
Porter
2015 Canadian Brewing Awards Gold Medal Winner and our first collaboration brew with Beertown. This medium-bodied porter gives notes of roasted barley, coffee, and chocolate, with a crisp finish.
5.0% | 21 IBU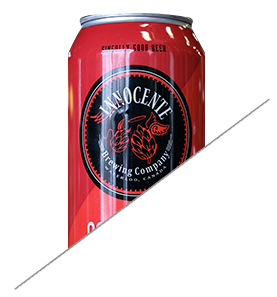 Conscience
American IPA
This IPA gives notes of mango, melon, and aggressive pine flavours. It pours a deep gold in colour, with a dry resinous finish.
5.7% | 80 IBU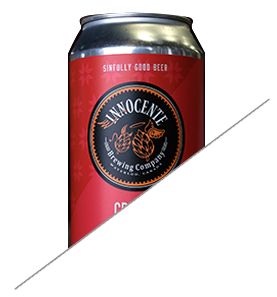 Cranky Zestive
Cran-Orange ESB
This extra special bitter is our holiday release and has been released annually. The additions of cranberries and orange peel add a holiday accent to this classic English style of Ale. Clean, crisp and dry with a hint of citrus and cranberry, pairs well with sitting aside a roaring fire enjoying your time off.
4.3% | 22 IBU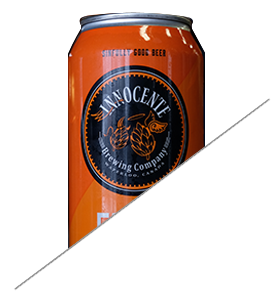 Fling
Golden Ale
This easy-drinking Golden Ale gives floral and spicy notes on the palate, with aromas of grapefruit and orange sorbet on the nose.
5% | 25 IBU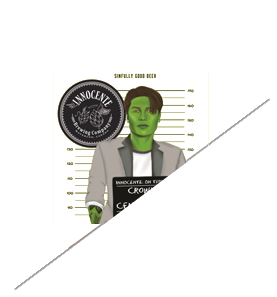 On Trial: Crown v. Centennial
Blonde/Pale Ale
Although a child of the 1970s, Centennial was first released in the 90s. A cross between Brewers Gold, Fuggles, Goldings, a Bavarian hop and an unknown hop, Centennial is a bit of a mutt. Commonly known as "super Cascade", Centennial's aroma profile is characterized by strong citrus, aromatic pine and soft floral notes. Centennial has become one of the most widely utilized hops for American-style pale ales and IPAs. The Centennial hops used here were grown just West of Tavistock, Ontario by the Bartlett and Wynette families at the Tavistock Hop Company. The unique terroir of Dean's farm lends to accentuate the floral and grass notes of Crystal. Crown v. Centennial is the third release in a single-hop beer series here at Innocente; On Trial. This pale comes in at 5.6% ABV and 25 IBU, and is crisp and flavourful with lemon, floral and grassy notes from the local Centennial hops, as well as hints of pineapple, cherry and mango. Pairs well with summer weather and just about anything else. The Innocente On Trial series is meant to showcase a single hop in all its glory and we think, with Crown v. Centennial, we've got a unanimous decision!
5.5 | 25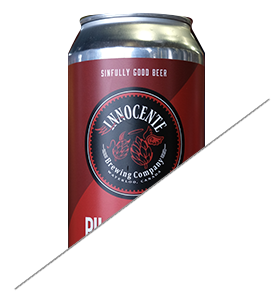 Pils-Sinner
German Pilsner
A traditional-style German Pilsner that gives stone fruit on the nose, citrus and tangelo/pomelo on the palate, and finishes dry and slightly bitter. Sharp, crisp and clean.
4.9% | 30 IBU