About Us
Voted Waterloo Region's "Favourite Craft Brewery 2016 and 2020", we are a small brewery located in the North East end of Waterloo, ON. From our humble beginnings in Scotland with Head Brewer, Steve Innocente, to our official opening in May 2014, we pride ourselves on premium, hand-crafted, quality beers.
We are actively involved in our community taking part in events, supporting charitable causes and partnering with local restaurants for collaboration brews!
We're open 7 days a week, and we'd love to meet you! Stop by our brewery for a glass or a beer flight, and meet the awesome people who brew and serve our awesome beer!
As far as food for purchase goes we have :
Nuts
Bag chips 
Coming Soon: charcuterie boards
 We welcome you to bring in anything that you'd like to snack on. Grab take-out, order a pizza, have your own picnic - etc!*
 And as far as your furry friends go, we are dog-friendly - as long as they are :)
Head Brewer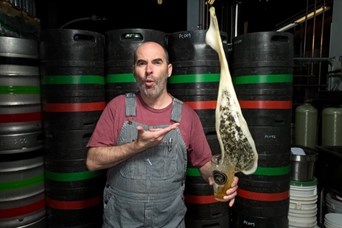 What happens when you combine a PhD in Molecular Biology and a Post Doctoral Fellowship studying yeast, with a brew making obsession for hopped up beer? You get Steve Innocente, the mad-about-hops scientist who turns beer making into an art form.
In 2004, Steve moved his family to Scotland where he did his post-doc at the University of Edinburgh studying Saccharomyces cerevisiae (brewing yeast) as a model system. While he had brewed on and off in Canada, he didn't get into brewing again until he was expecting child number four and there wasn't as much time to get out to the local Edinburgh pubs. Contract Brewing at Alechemy Brewing, Steve started the Innocente Brewing Company and his first beer "Innocente Bystander", a 4% ABV, 125 IBU American pale ale took local pubs by storm! Additionally a premium lager (Lost) and an IPA (Conscience) rounded out his repertoire.  Steve moved back to Canada in 2012, and in May 2014, with his parents and brother, the Innocente family officially opened the Innocente Brewing Company to the public.